Enter the musical realm of Amanda Davids, where sonic boundaries are overthrown and myriad genres assimilated into one sound, Funk Rock. With a new "hold nothing back" sound, Amanda Davids presents her gritty fusion to the world. Taking inspiration from revolutionary innovators before her, such as Muse, Massive Attack, Parliament, Prince, The Roots, Herbie Hancock, and Pink Floyd, Davids has created her own unique musical vision. Armed with her Piano, Hammond Organ and a raging Soulful voice, Amanda Davids ignites a stage with evocative songwriting and untamed Funk, rooted in Prog Rock, improvisation and Urban beats.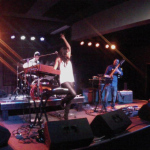 Her whirlwind 2014 tour schedule included performances in the 2014 Northern Lights Oktoberfest in Sudbury and over 25 stops in different cities across North America. Since releasing her debut EP in 2012 "Distinguishable inDifference", Amanda Davids has been amassing fans worldwide. Touring the UK after the launch, and then returning home to perform in the, 2012 NXNE Festival, 2012 Oakville Jazz Festival, 2012 Sudbury Jazz Festival, followed by the 2013 Canadian Music Week, Sault Ste Marie's 2013 Downtown Queen Street Festival and initial North American tours, Amanda Davids' distinctive vision has emerged as a musical force to be reckoned with.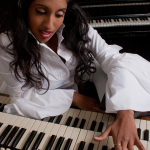 During her early years Amanda explored a diverse education in music, spanning multiple instruments and genres. Her original training in Jazz and Classical piano and vocals set the foundation for her career as an artist. Currently a disciple of world renowned organist Tony Monaco, Amanda has added the Hammond Organ to her arsenal of instruments with the hopes of ushering in a new era of modern fusion music..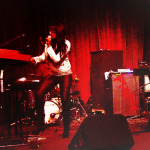 With emphasis on improvisation and unusual arrangements Amanda Davids' Funk Rock has evolved into a musical form like no other. Davids' diverse performance background ranging from small acoustic stages to large outdoor festivals enables her to deliver a performance for any stage. Davids' high energy Funk Rock audiences should expect to see her full rig as she performs on two keyboards (Hammond XK3-C and Korg SV-1) with her band FunkRiders;  8-string guitarist, MPC Player and drummer. Her spine tingling vocals and charismatic stage presence carry over  tight arrangements, dynamic instrument lines and digging urban beats. In more intimate and laid back settings you can find her solo with just keyboard and vocals or with any combination of her accompanying instrumentalists. Equally as enticing, her easy going sets have an Acid Jazz flavor.